Growing up with a green thumb
When I was in elementary school, I got first place in a gardening contest at my county fair. (Not to brag or anything, but there were adults in that same category with me...)

The secret to my young success? A) Talking to my flowers while they were still growing and B) the large, beautiful earthenware, terracotta-colored pot in which I planted them.


We still have that planter today, and I can't help but be reminded of this advertisement (at right) from the United States Food Administration in the World War I era. Sub out the third proposition for "fertilizers and pesticides," and the with "gardening" for "food," and you've got yourself a pretty good set of standards for sustainable gardening.

Gardening with care
It's that very same mindful mindset that's so very needed in the U.S. today: according to a 2015 report from the WorldWatch Institute, the average resident of Western Europe or North America trashes about 220 pounds of plastic per year and recycles only 9% of that amount.

The main culprit of that quarter-ton of waste? Plastic packaging: you'll find it keeping your food fresh, nestling your flowers in their bed and in thousands, perhaps millions, of other everyday objects. The same World Watch Institute reports that bewteen 10 and 20 million tons of plastic find their way to waterways—causing $13 billion in losses due to marine ecosystem damage, fisheries and tourism decreases and beach clean-up efforts.

So, let's plant a new seed: every little step counts in our movement to reduce the single-use, so why not start with a little spring garden awakening?

DIY garden planters
Here are few ideas to create your very own DIY planter boxes and containers using what you probably already have in your home. Rather than recycling a soda bottle or two, or taking a used pair of shoes to your local thrift store, grab some dirt and some seeds and fill 'em on up!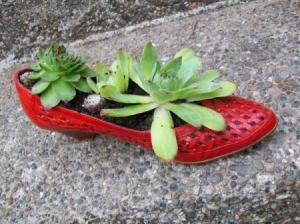 DIY shoe planter—good for indoors and out
Chances are, you have a pair of shoes lying around that you're not really using anymore. Repurpose one or two to create an eye-catching, affordable and upcycled planter that's just perfect for succulents like this, small seedlings, herbs and more. Get artistic and have fun with it: paint your shoes fun colors or find other ways to decorate them in a way that celebrates your personal style.



DIY soda bottle planter—reuse and repurpose
Yes, we know soda isn't good for you and we aren't encouraging you to go out and raid your supermarkets for the sugary stuff just to create a DIY garden planter. But, if you find yourself with an extra bottle or two that you're able to cut in half and perforate to ensure proper watering, they make a fabulous hanging planter or freestanding "vase", if you will.
Have more ideas of your own?

Tweet them to us @reuseit_store, leave a comment on our Facebook wall or tag @reuseitstore in your next Instagram post!
Images courtesy of: ThrifyFun and maikonagao blogspot